Since Austin and H-town have their own threads, I figure the preponderance of Bay Aryans means we can have one too.
There's an alleycat scheduled for tomorrow in Pleasanton. There's been some drama around it, but it looks like it might actually happen.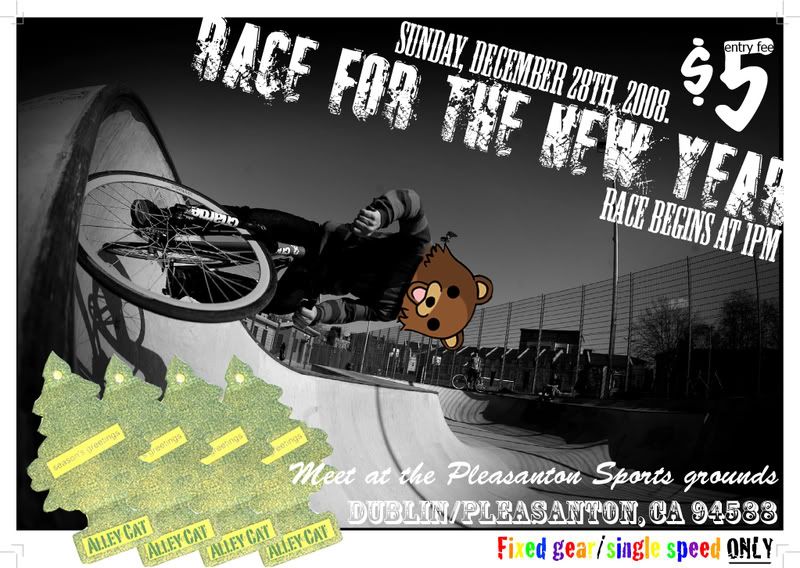 I'm fi'n'a go. If anyone else wants to BART or even drive out that way, we could roll together. If not, that's cool too.
__________________
There's also a great group ride on Wednesday nights in Oakland that I take part in when I can. It meets at 7pm @ MacArthur BART. Great guys, chill pace, ends up at the Albatross and/or Lanesplitter in Berkeley. Fix Without Dix also has a ladies-only ride on Wednesday night that meets up with the dudes.
Lots of SF-based rides too, but I'm not real tuned in to 'em since I'm East Bay-based.
__________________
I Left My Heart in SF alleycat is scheduled for Valentine's Day '09
__________________
Most of my event info comes from sffixed. If you're local and not on the board, please join. I've heard people talk shit on sffixed a lot, but frankly I've found it to be an awesome, supportive, informative community. There's also a very active buy n' sell board. So if you haven't, g'ahead and apply for membership. http://www.sffixed.com
__________________
If anyone's up for a tarck-specific Bay Uhhrea get-together, lemme know. It would be nice to meet you creeps.
Sat, 12/27/2008 - 14:35