Illustrated with GIS cuz I don't feel like taking my own photos.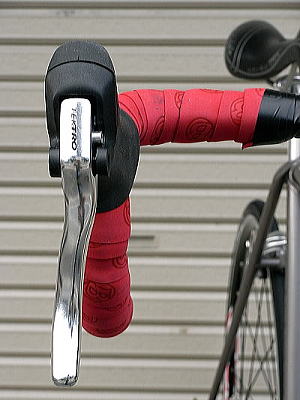 Last month I finally broke my Tektro R200s and was seeking replacements. My LBS said they can no longer get the R200s (maybe they are discontinued?) but let me order some of Tektro's new RL340 levers instead, for $25. That price seems super low for a Canadian lbs. Maybe it was a mistake, or maybe these levers are just that cheap.
Form-wise they are quite different from the R200's knockoff of 10 speed Campy. The hoods of the RL340s come out from your bars' shoulders with significantly more up-swoop than the R200s. if you like a flattish transition from bars to hoods they might not be for you. On classic bend bars like my nudls they swoop unavoidably up. This (on kinked ergo/compact type bars) might be about as flat as you can get them, and it still ain't flat:
The 340s' hood bodies feel way different from R200s too. Up at the front where the lever blade drops down, they are wider and more blocky looking. But in the middle where your hands grip they narrow like an hour glass. A guy on bikeforums posted a handy side by side photo comparison that illustrates this point: http://www.bikeforums.net/showthread.php/638015-Tektro-road-brake-levers-R100-R200a-and-R340-R341-size-question?p=12017362&viewfull=1#post12017362 Overall the feel of the hoods is more "oval" and less "blocky" than R200s. They also seem to be a few mm longer. Out on the hoods they feel like they can get me more stretched out than the R200s did.
I am still dicking around with lever positioning on the bars, but i think i can eventually get them to feel ok for seated riding on the hoods. The difficulty right now is that their transition from the bars is weird to negotiate when you're used to setting up levers with the positioning you get from R200's. They feel just great when i stand up to sprint or climb, though. In these situations R200s always seemed to jam my fingers together awkwardly. The RL340s' added length and ovoid shape is roomier and feels nicer.
The aluminum lever blades are quite different from R200s. The internet consensus is basically that they're ugly, but ergonomically they work really well. The R200's lever has a nice little indentation a third of the way down for your first and middle fingers to grip when your hand was on the hoods. The 340s have an even more pronounced indent that just feels pleasant to wrap your hand around. Farther down they flare outwards in a way that makes them really easy to grab from the drops. They are a bit longer than the R200 levers, probably to accommodate the hoods' more swoopy rise. The pull ratios are near-identical as far as I can tell; visually the pivot point and cable end support are the exact same distance apart, but maybe the 340s have more leverage as a result of that greater length.
There is a QR button that's just like campy ergo/ the R200s. As before it's a handy detail if you are running fat tires and need to change a wheel, or if your wheel goes out of true or something else fucks up and your brake pads are rubbing.
Overall these are really well designed and executed levers, especially for the rock bottom price. I don't know if you'd be able to find such a crazy price-performance ratio with any other spencer product. Ergonomically the 340s might not be everyone's cup of tea, but as with other contact points it's probably impossible for individuals to know for sure without trying them. So far they are working out great for me on my commute and i am cautiously optimistic about longer distances as i get positioning dialled in.
Thu, 10/13/2011 - 00:30